If you haven't seen the new 5boro video click here. Now that you have. Joe Tookmanian should be pretty fresh in your mind as he got the ender. Read on to find out what Joe's favorite Cigar is and what kind of random things he's seen in New York City.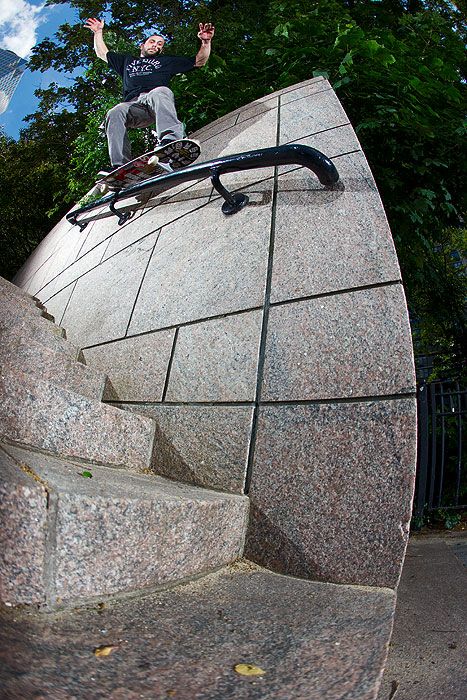 Let's get into it
What's your top choice cigar?
Rocky Patel 1990 series or Ashton VSG
What is your favorite skatespot from your hometown?
The mini ramp in my backyard
What to do on a cold winter day?
Me and Jimmy are in the streets no matter the weather
What is one thing about 5Boro most people don't know?
We are all skate rats
What's for dinner?
Chicken Supreme in Patterson, NJ
What is you favorite skate vid of all time?
Hard to Choose just one….Mouse, 411 volume 22, Timecode, Photosynthesis, or any East coast Video from the 90's
What's better old school video rentals or netflix?
Netflix, thanx Babe
What is the first thing to do after a long epic session?
Coffee and Cigar
What's the best thing about 5Boro?
Always hanging and skating with the crew
What time is it right now?
7:47
What does it feel like to switch BS TS a rail?
Ill get back to you on that one
What do you have planned for the rest of 2012?
Skating
What is the randomest thing you've seen skating through the streets of NYC?
I saw spiderman taking the subway, I thought he would just swing from building to building
What do you do when your not skating?
Boxing, carve wood, Weld metals to make Jewlery Shout out to my company Giddos Jewlery, or smoke cigars with my pops
What is your top 5 favorite skaters?
Darren Baskinger
Andy Bautista
Brian Douglas aka the godfather
Kevin Hayden
any 5boro skater past or present
What would you do if you won the mega lotto?
Bail my boy Alex out of jail, Make my friends and family rich, Buy a tour bus and travel the country skating with the crew.